Saturday 7th October
What an opening number!!!
As the curtains parted so the audience were amazed to see the massed bands of Verwood Concert Brass, that's over 80 player, gathered on stage.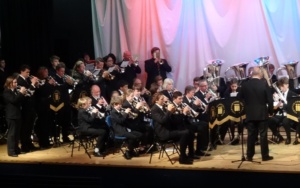 And they were even more amazed by the fantastic sound as all these musicians play the march – 'The Middy', under the baton of Mike Dunnings.
A hard act to follow for the Training Band? Not a bit of it – they stayed on stage to perform their excellent trio of pieces to much appreciation from the audience.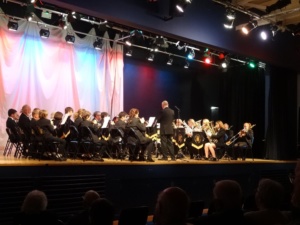 The Verwood Concert Brass Band was next up with guest conductor Phil Randell leading them through their set. This included a real treat of a solo trombone performance from Emma Button who played 'Every Time We Say Goodbye'.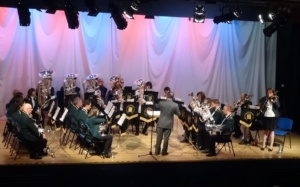 After the interval, Emma was back on to conduct the Town Band whose set included another fantastic solo performance, this time by Amy Cooke on tenor horn playing the lively number 'Higgy Jig' absolutely wonderfully.
Then followed a solemn occasion – in recognition of the recent death of the Town Band's principal euphonium player, Ian Jarvie, band member Robert Graves gave a eulogy followed by the band playing one of Ian's favourite pieces 'All Through The Night' – not many dry eyes in the house after that.
The tempo was then picked up with lively renditions of 'Blue Tango' followed by 'Manhattan Skyline'.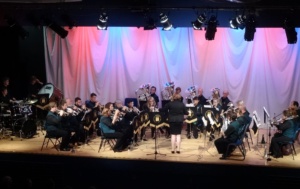 The Verwood Concert Brass Band were then back on to go into 'Last Night of the Proms' mode, kicked off superbly by Ian Harris on euphonium playing 'Rule Britannia'.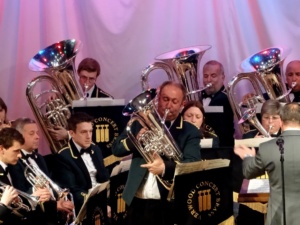 This was followed by other Proms favourites with conductor Phil Randell having to give little persuasion for the audience to join in with singing 'Land of Hope and Glory' and 'Jerusalem'.
Thus concluded a great evening of entertainment.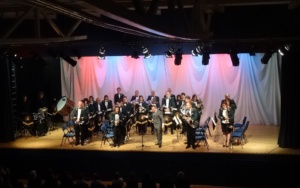 The next opportunity to see all the bands of Verwood Concert Brass will be at the ever popular Christmas Concert on Saturday 16th December. See you there!