Once again a great day for Verwood Concert Brass at the Wessex Brass Band Association Annual Winter Contest on Saturday 25th November.
As can be seen from the photo there were plenty of awards to be won and Verwood Concert Brass came away with quite a few!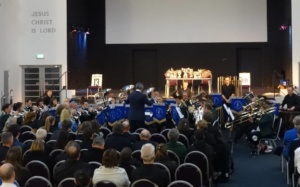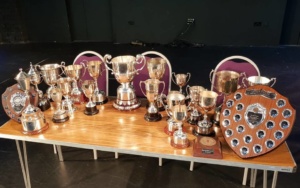 Verwood Town Band kicked things off by winning the 'Hampshire Cup' for being the highest placed 4th Section or Ungraded Band by playing the atmospheric Paul Lovatt-Cooper piece 'Dark side of the moon'.
However perhaps even more pleasing was that the band came 8th overall which meant it must have been placed higher than a couple of 2nd Section bands (which it also did at last year's contest) meaning the band can and does perform above 4th Section standard and will be a boost towards the difficult task of gaining promotion to the 3rd Section.
Very well done Verwood Town Band and conductor Emma Button.
As for the Verwood Concert Brass Band – well here is a list of what they won!
The Arthur Spencer Trophy for best bass section (for the second year running) – congrats to the bass team of Duncan Smith, Jane Cottee, Mike Dunnings and Chris Ide.
Ian Harris was awarded the Tom Gomersall Memorial Cup for best Euphonium player – nice one Ian.
Graham Carter on Tenor Horn won the Kevin Bolton Plaque for Best Instrumentalist of the day – great job Graham.
March Cup (upper sections) – the band played Kevin Alford's March – Army of the Nile.
The Championship Section 1st prize of the Christopher Wren Cup. The band player Isaiah 40 by Robert Redhead.
And once again were crowned OVERALL WESSEX CHAMPION receiving the Pitt Rivers Cup.
So very well done to the Verwood Concert Brass Band and conductor Kevin Smith.
The band also had the honour of playing a short concert at the end of the day whilst the results were being collated. This met with great applause from a room full of brass band aficionados. So all in all a fantastic day and so nice to have done so well at our local brass band contest.
Very well done also to Bournemouth Concert Brass and Hyde Band for their respective 2nd and 3rd places and all the other bands and special award winners.